Welcome to Sadie Lady the Official Website for young Model & Actress Sadhana Joule Som. Here you'll find the latest news, updates & images on this talented little girl. You can view some of her work in the Gallery. If you have any question's feel free to Email the Webmaster.


NEWS & UPDATES
Sadie enjoys each and every opportunity that comes along to work for Target! From gracing the cover of their catalog, to weekly flyers and in-store posters, each release is very exciting to see! Hopefully many of you have gotten the chance to see Sadie's in-store poster currently up in the shoe department for their fall campaign! It is such a fun image of Sadie laughing alongside two of her friends as they play around with a classic and creative toy...two cans set up as a 'telephone'! This has got to be one of my favorite images Sadie has done for Target, each and every time I see it, Sadie just makes me smile, and Im sure its the same for many of the customers who pass by. I am very happy to say that we now also have the actual shoot image from the job!! What's very neat is that...the image and the in-store poster are turned two different ways! Its always interesting to see what happens from the photoshoot to the image(s) being used. Make sure to head on over to the gallery to check out Sadie's Target image!
While the end of the year is approaching and the posters while one day be changed around again...don't get too sad because...Sadie will once again be up in the stores!!! She recently shot for their spring 2012 in-store posters and this shoot was a VERY exciting one! That is because....Sadie got to work alongside Nathan and Zack!! That's right...all three of them got to work together!!! How neat is that!! Sadie and her brothers had a blast getting to do the shoot together and hope to get to do it again one day! I cannot wait for the release of this poster, so spring...please hurry up and get here!!
Posted by: Lisa | comments 0
| | |
| --- | --- |
| 04 Sep 2011 | Summer Dance Recital!! |
With her outfit on, dancing boots ready to go, Miss Sadie was all excited and set to perform at her summer dance recital recently! All dressed in red complete with stars on her Texas cowgirl hat and boots Sadie danced her way around on a huge stage in front of a lot of people, showcasing all her hard work and showing everyone just how talented she is. She has such a wonderful stage presence and just shined up there performing and doing what she loves.
Sadie had shoot pictures done of her all set in her costume ready to perform and they are just stunning! She is so adorable with her boots and hat and you can see just how excited and proud she is about getting to perform in her annual recital. Fantastic job Sadie, you did such a fabulous job up there and everyone is very proud of you! Keep up all your hard work and keep on smiling you spend time doing the activities you enjoy.



Posted by: Lisa | comments 0
The industry is made up of so many wonderful experiences and moments that make each and every booking such a rewarding experience. For a print job, one of the most exciting things is getting to see your work displayed in-store and that's exactly what Sadie got to see on a recent trip to Target! With her fall themed poster in the shoe section, Sadie not only saw her poster but posed for some pictures with it! She loved getting to see herself up in the store, and you can just see how proud she is in the picture of her standing in front of the poster.
Target really loves Sadie as not only is she currently up in store, but she has recently been featured in their weekly circular!! For the back to school campaign, she could be seen standing on a stack of books for the shoes page where she definitely rocks an adorable pair of shoes! Fantastic job Sadie!

Sadie always has a lot of fun on photoshoots and photgraphers just love working with her! The impression Sadie leaves on those she works with long after the day is done is really seen in a blog post by the wonderful Martha Schuster of I See the Moon Photography called Sunshiney Surprise! Martha photographed Sadie all the way back in April 2010 and yet on a recently stop in Target she not only recognized our sweet Sadie, but dedicated an entire blog post to her, speaking about how happy she was to see that loving and giggly smile looking back at her on the in-store poster. Thank-you so much Martha for the blog post and thinking of Sadie!
Posted by: Lisa | comments 0
| | |
| --- | --- |
| 15 Aug 2011 | Little Warrior!! |
A bright sunny day, meeting new friends, and getting to model a variety of fun and vibrant outfits are just some of the highlights that make up Sadie's recent shoot for the Little Warrior fall/holiday campaign! Sadie had such a fun time on the set of the shoot exploring her surroundings, which was captured magnificently by Juneberry Photo. I especially love the image of Sadie in the fun purple shirt reaching into the fountain as the tiny bit of water shoots up. There were so many great props used in this campaign and the drums especially look like they were loads of fun to use! The series of facial expressions captured, and her sense of wonder that shines through allows for such a captivating feeling as you view these images. While the uniqueness of the shoot location and clothing really makes them stand out stand out, and Sadie did such a fantastic job! Thank-you so much to Juneberry Photo and crew for a wonderful day!


Posted by: Lisa | comments 0
| | |
| --- | --- |
| 06 Aug 2011 | Work of Heart & Little Warrior!!! |
A beautiful day outside with the sun shining down and lighting up the day, a little girl all excited for wardrobe changes and being able to bounce around, all smiles for the camera, lots of laughter and fun on location...that's right, Sadie had a new photoshoot done recently! Sadie and her brothers recently did a wonderful photoshoot with the amazing Skye Hardwick of Work of Heart Photography. The images themselves are simply stunning! From posing for the camera to grabbing a nice big hug from Zack, Skye captured so many wonderful natural moments and not only that...enriched them with such fun colors and editing that make them just pop out so beautifully! Sadie looks so grown up in her hat and boots standing there for the camera, and the displays of sibling love as Sadie kisses Zack and laughs with her brothers just makes your heart melt!


Zack had some images taken too at the photoshoot and they came out fantastic!!!! You can tell Zack's all ready and excited to have his photo taken as he stands there hand in pocket and that funky hat, smiling, all ready to go! One of my favorite parts about Zack's shoot is the way that Skye captured Zack's curiosity with the nature around them. The photos of Zack holding the frog in the jar speak volumes, and the photos of him standing there holding the hiking stick just as big as he is are very cool! Thank-you to Skye Hardwick for such a fun and fabulous shoot!



A few weeks ago Sadie shot for the clothing company Little Warrior, and images will soon be surfacing! Woo hoo! Right now, we have a sneak peek at what's to come with this shoot thanks to the wonderful Juneberry Photo! I just love this photo so much and am so in awe of it that its left me speechless! Which is a fairly hard thing to do! This is such a stunning photo of Sadie, and there are going to be plenty more amazing pictures to come!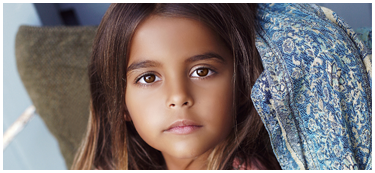 Lastly, some very exciting news!!!! Sadie, Zack and Nathan are finalists in the Child Model Magazine Most Beautiful Models contest! Way to go!
The contest has a new round of voting up now, and all you have to do to vote is like the page and comment on their photos! Very easy!! The kids would love to see their fans wonderful and supportive comments underneath their pictures, it will be fun! To vote and leave your comments make sure to click here to be taken to the contest album. Thank-you to everyone who comes out to show their support, it is very much appreciated!
Posted by: Lisa | comments 0