Welcome to Sadie Lady the Official Website for young Model & Actress Sadhana Joule Som. Here you'll find the latest news, updates & images on this talented little girl. You can view some of her work in the Gallery. If you have any question's feel free to Email the Webmaster.


NEWS & UPDATES
Hope everyone has been having a fantastic summer so far!!! Its been nice enjoying the warm weather, flowers in bloom, and the fun and games of being in the great outdoors. Soon...the leaves will be changing, the cooler air moving through and school back in session. The best part of fall approaching is that Sadie's poster is now up in the shoe section of Target stores for their fall campaign! Shot by the amazing Dani Brubaker, Sadie can be seen smiling with her two friends as they play with one of those tin can and string telephones. I bet many of you did that too as kids, so fun!
Make sure to check out the image in our gallery, and fantastic job Sadie!!!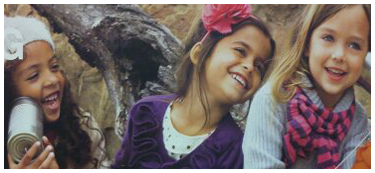 Posted by: | comments 0
| | |
| --- | --- |
| 11 Jul 2011 | Target, Steven Wetherbee & MGA!! |
This August, as you open your newspaper and look through your weekly advertisements...you will come a special one...one that contains all kinds of great things, and what's especially exciting about it is that...you will be holding one that has Sadie's image!!! Sadie has shot for the always amazing Target recently, and her shoot should be seen in the fourth week of August circular!!! Sadie had a fantastic time behind the scenes from playing with Zack and the other kids on set to getting her hair all curled, how adorable!!
She and some of the other kids at the shoot also fell in love with the set teacher's dog Charlie, who can be seen sitting with Sadie and a friend between takes. Such a fun time, and we just love Target!!



We also have an additional image to the fabulous shoot Sadie and Zack did with Steven Wetherbee earlier this year! The kids can be seen wearing their shirts for Child Model Magazine's 50 Most Beautiful Models too! Way to go Sadie and Zack!! An interesting little tidbit is that there's also a bee in this photo...make sure to take a look and see if you can spot it! As well, we also have a new image from Sadie's MGA shoot for their Pop Tunes Guitar! It has been spotted on the product packaging, and we now have the actual image, woo hoo! I just love seeing Sadie having so much fun jumping around and rockin out with the guitar!

Posted by: | comments 0
| | |
| --- | --- |
| 08 Jul 2011 | Little Society!!! |
The glistening snow, warm outfits, fun igloos, snowballs and sleds...no its not winter arriving outside your window...its....Little Society on your screens!!!! Sadie and her friend Kailee Bauer did an extremely fun winter photoshoot for Little Society with the always wonderful Gretchen Easton and the images are just stunning!!!! The scenery, the colors, the outfits are just simply amazing, and Sadie is so adorable in her images! Makes me feel like winter is waiting just on the other side of my window, and can go outside and play. I really love Sadie's little laugh and smile in the images and the expression on her face when she pulls on the sled rope, so cute! Amazing job Sadie!!


Sadie had a blast shooting Little Society with Gretchen Easton and the behind the scenes photos show just how much fun was had that day! Playing on the sled, diving into the 'snow' and just look at that igloo! So exciting!!! Thank-you to Gretchen and the wonderful crew on the shoot that day for such an amazing time!




Posted by: | comments 0
| | |
| --- | --- |
| 13 Jun 2011 | Steven Wetherbee Images Are Here!!!! |
A very exciting update today at Sadie Lady!!!! Many of you probably noticed a beyond adorable photo of Sadie and Zack in our "Picture Perfect" sidebar section recently, and today I am happy to share even more amazing images of Sadie and Zack from that day thanks to the fantastic Steven Wetherbee!!!! Sadie had an absolutely amazing time at her photoshoot with Steven, getting to be herself as Steven did what he does best...capturing the art as he connects with the subject. Sadie's free-spirited nature absolutely shines through these images and I cannot say enough just how much I LOVE them!!!! Sadie enjoyed playing with Steven throughout the shoot and Zack too loved getting in on some of the action and posing for some shots with his sister, and totally rocked out an excellent solo shot! Thank-you Steven for such an amazing day at the shoot and these incredible images!! Everyone make sure to hurry on over to the gallery, these photos are definitely must see!



There's also some fantastic booking news!!!! Sadie's shot with the incredible Gretchen Easton recently for the upcoming Stella Cove line!!!!! Woo hoo!!!
A very fun day with Gretchen and everyone involved with the shoot, and the images are simply going to be stunning when they're released!!!! We also now have an HQ copy of Sadie's Target summer catalog cover in our gallery, she is such a lil' superstar!
Posted by: | comments 0
Hope everyone's got their beach gear in order because the sun is out and its time to enjoy that nice summer weather!!!! While you do, make sure to pick up the Target summer catalog to get ready, that way you'll get to see Sadie right on the cover!!!! We are so excited that Sadie is gracing the cover of the newest Target catalog, and couldn't be more proud of her! Way to go Sadie!!!
She can be seen with her friend Chad DeSilva and had an absolute blast shooting it! Sadie loved seeing the final image as what was once a pool noodle has become a really cool large shovel that she's carrying and how amazing is that castle! Don't you just want to go run out to the beach and build one? Shooting with the castle was definitely a highlight of the shoot, and it looked so real! Fantastic job Sadie! You are totally rocking the cover!!
Posted by: | comments 0