Welcome to Sadie Lady the Official Website for young Model & Actress Sadhana Joule Som. Here you'll find the latest news, updates & images on this talented little girl. You can view some of her work in the Gallery. If you have any question's feel free to Email the Webmaster.


NEWS & UPDATES
| | |
| --- | --- |
| 30 Jan 2011 | Happy 5th Birthday Sadie & Zack!!! |
January 30...what can we say about this day? If we think back to this date in 2006...we realize that it was a very special day, it was a day full of joy and happiness as two little babies entered the world. Two little babies taking their first breaths on this earth as they are welcomed by their parents, big brother, and many family and friends all excited to see them and hold them for the first time. Yes...those two babies are...Sadhana and Zachary Som! Fast forward to January 30, 2011 and...we are here all excited to be...celebrating their 5th birthday!!!! Yes, the twins are turning the big 5 years old, where does the time fly??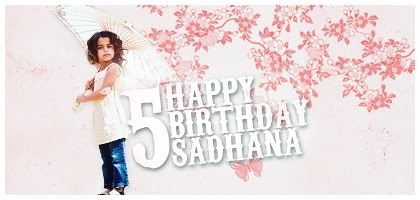 To the sweet, fun, and bright Sadie, wishing you a special day filled with happiness and surprises. Time with family and friends, celebrating your big day however you choose to. You have had an amazing year as a 4 year old, and your adventures as a 5 year old are going to be amazing too. To celebrate Sadie's birthday we have the banner above made by the fabulous Sarah!! and we'd also like to thank "TaralynEschbergerFan" for this sweet birthday video they made for her:

We also have a little fun look through time for everyone to see just how much Sadie has grown over the years. From a cute baby to the beautiful little girl she is today: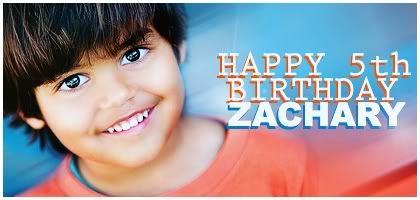 To the sweet, friendly, and simply amazing Zachary, wishing you an exciting day full of fun, laughter, and celebration on your special day. You have had a super fun year being 4, and have loads of adventures to look forward to as you turn the big 5. Have a blast opening your presents and enjoying your yummy cake! To celebrate Zack's birthday, we have this amazing banner made by our friend Sarah up above, and we also have a little look through time for Zachary as well. From a cute lil guy to an absolutely adorable and charming child, Zachary has grown so much over these past few years:

Once again, as we cannot say it enough, Happy Birthday Sadie and Zack!!!! Now...everyone please join in for a little birthday song for the twins birthday wishes and enjoy this video made for Sadie and Zack by "tiger19970":

Happy Birthday to you,Happy Birthday to you,Happy Birthday Sadie and Zack,Happy Birthday to you!

As well, we can't forget that its the site's Two Year Anniversary!!!!
Can you believe we've been following Sadie and Zack's work for a whole two years now? Time really has been moving quickly! Happy Anniversary to Sadie Lady!!
Posted by: Lisa | comments 0
| | |
| --- | --- |
| 28 Jan 2011 | Target, New Bookings & More!!! |
While the weather outside is cold, the days turn to night earlier, and many parts of the country are covered in snow...companies such as Target have another way of thinking about this time of year. For them...its a great time to get everyone thinking of making purchases on spring merchandise and what better way to do that than...some in-store advertisements? An even better idea....have Sadie in the advertisements!!! and Target did just that! If you head down to the shoe department on the next shopping trip there...you will hopefully see Miss Sadie gracing the front of one of the girls shoe isles! If its going to be awhile before you go, or you don't have Target near you, don't worry because you won't miss out as we also have images of Sadie's poster up in the stores!! That's not all though! Sadie tagged along on a trip to the store this past week, and she got a chance to see it first hand, and of course....took some photos with it

We also have some fantastic news to share!! Sadie has recently shot for not one, not two, but...THREE companies recently!!! Sadie will be featured in Saurette's fall line later this year, and had such a fun time at the shoot!!
Then last weekend, she shot with Tralala alongside some fellow Zuri friends, and that same day she also shot for Little Society and their winter line! She had so much fun with the talented Gretchen Easton and absolutely loved getting to play in all the fake snow! Thank-you Gretchen for a wonderful and exciting day!! Zack also has been on set recently, shooting for Pottery Barn Kids!! He got to have a very exciting day down at the beach alongside a few friends and can't forget playing with some of the amazing new items Pottery Barn has in store for their youngest customers! It's going to be exciting, and cannot wait to see the final product! A few site related items to also mention today. Firstly our Fan Art section has moved homes! If you click "playtime" up top, you will be immediately taken to our new set up for all the amazing fan art our visitors have donated. We'd again like to thank everyone for sharing their talents with us, and if anyone would like to send in some of their work for the site you can contact me. Our sidebar also has a bit of a new look. We have a new addition to our current projects section, where...you can now keep track of what Zack is up to too! Simply click on his name to be shown his current projects, and if you'd like to switch back to Sadie's...you just have to click her name instead. Lastly, the gallery rules have slightly changed recently, please take a moment to review them. We've been noticing that the site doesn't seem to be getting credit on places like Youtube, Facebook, and other places the images of Sadie and Zack are used. For those who have been...we thank-you very much!! Crediting with a link back to the site is something that helps new Sadie and Zack fans who have seen what you posted, know where to come and learn more about these two talented kids. It also helps keep things running smoothly too. For the same reason, we have also started putting a little tag on the images, they are to show everyone how to find this website. If your worried about fan art and other related items, the tags should not change anything, the images will still be usable for items like this. Since we know how amazing our site visitors are, we know that everyone will help out and provide the link back when sharing images and your amazing talents out there!!
Posted by: Lisa | comments 0
| | |
| --- | --- |
| 04 Jan 2011 | Stella Cove, Marshalls & Hudsons!! |
The new year is sure off to a great start, and we hope that everyone is having an exciting first few days as well! First off, welcome back, some of you may have noticed we had one of those wonderful white pages for 24 hours, and that was just to fix a few behind the scenes technical items, but...its all good cause everything is all running smoothly now! What better way to welcome everyone back than...photos! Stella Cove has recently launched their lookbook for the Spring 2011 season and our Sadie is showcased three times for their products, woo hoo! Images are now up, and if you go check out the Lookbook they give you the options to click on the outfits used to make your shopping needs a little bit easier.


As well, Sadie recently took a trip over to Marshalls to see her posters in person! It was very exciting for her to get to see the posters up close, and always such a wonderful experience. Especially when onlookers and employees realize the model is in the store, who wouldn't love that attention and appreciation for their work
We've now got a couple of photos of her enjoying this moment, as well as an image of the posters side by side in the store. How adorable is that smile??!!



A big congratulations also goes out to Miss Sadie! She was selected last night as one of Child Model Magazine's winners for their Think Pink Paris contest!! She now advances onto the finals, way to go Sadie!That's not all! Zack has some big news to share too!!! He is featured in the January 2011 issue of Hudsons Magazine modeling shoes!! You can see him having loads of fun bouncing around, trying out a few moves and overall having a fantastic time in front of the camera. Its very clear just how much Zacky has grown up in these pics, too cute!!


Posted by: Lisa | comments 0
| | |
| --- | --- |
| 24 Dec 2010 | Merry Christmas!!! |

Today is a very special day for Sadie, Zack, their brother Nathan and many many children and families all over the world. Yupp! Christmas Eve has finally arrived!!! Yummy dinners, milk and cookies for Santa, making sure as hard as it is to stay in bed allll night so that Santa will come and give you your special gift for being good all year long! How exciting!! Can't forget the time with family, maybe a cozy spot by the fire and some hot chocolate? and importantly, remembering and knowing why we are all gathered to celebrate this special night and the special day that arrives tomorrow. The Som Family has sent along a wonderful Christmas Card to the site to thank everyone for their amazing support over the course of the year, and it truly means so much to the kids and their family. Everyone is always so kind and generous, and its you who helps make this website so special just by visiting and seeing what is going on in Sadie and Zack's world. We hope that everyone has a Merry Christmas and best wishes in 2011! And a Happy Holiday to everyone!!The Holiday season brings much cooking and shopping and running around, and can't forget the wonderful productions put on by schools and extra curricular activities. Kids are always so cute up on stage singing carols or dancing, putting on plays etc. aren't they? Well...Miss Sadie certainly fits into the adorable on stage category! She recently took part in her dance group's production of The Nutcracker. She is absolutely the cutest gingerbread girl ever! Sadie loved every minute of the show, and absolutely loves getting to put on the costumes and make-up, and of course...perform for her family, and everyone else coming to see the show
Sadie also made sure to spot her family in the audience and give them a big wave while she danced, too adorable! Of course all this talk of Sadie's adorableness in her recital is making everyone want to see her in her costume and....thanks to the Som Family and the wonderful Snaps Productions we have images of Sadie not only in her costume...but on stage performing! Such a perfect holiday treat!


Posted by: Lisa | comments 0
| | |
| --- | --- |
| 25 Nov 2010 | Marshalls & Thanksgiving! |
With winter making a fast approach, I'm sure everyone has anxiously been awaiting the release of Sadie's shoot for Marshalls. It is very exciting to now be able to say that the winter campaign is released!!!! Three images of Miss Sadie have surfaced on the company's website and not only do we have them....but we have them in HQ!!! Sadie looks absolutely adorable in her winter gear and her stunning festive dress. The images just make you want to run outside, find some snow and go sledding down the hill!! Or...maybe build a snowman



That's not all! Marshalls loves Sadie's images so much that they have also selected them to advertise in-store too! Thanks to Mrs. Som we have a couple of images of the posters being used in the kids clothing department. If you too happen to pop into the store, we hope you also will get to see these amazing images up close!

The news just keeps on coming!!! Not only is Sadie's Marshalls job released, but she has also been selected as one of the finalists for Child Model Magazine's 50 Most Beautiful Models
Below you can view Sadie's winning photo which was taking by the amazingly talented Colette Cugno!
As many of you know, in the US today is a very big day! Turkey's are being cooked, stuffing served, pies baking in the oven, and many tummies all anxious to sit down to a nice big meal! Importantly, today is also a time to take a moment and reflect on what one is thankful for. We would like to take this time to wish everyone a very Happy Thanksgiving!! To those who are non-US visitors to the site, we hope you too are having a fantastic day!Lastly, I am sure some of you have noticed that the name on this post is different. I would like to take this opportunity to introduce myself. My name is Lisa and I will be bringing you all the latest updates here at Sadie Lady. I am very excited and hope everyone will love all the wonderful things soon to come here! I also would like to give a BIG shout out to Sophie who has run this site since day one, and done an absolutely amazing job!! Thank-you for all of your hard work and dedication and for making this site for Sadie and Zack what it is today!
Posted by: Lisa | comments 2